From our Founder.
Rooted in financial innovation,
inspired by operating experience.
At Bonside, we back multi-unit concepts that are shaping the future of our communities. We partner with businesses not once or twice, but time and time again over the lifetime of their growth journey. We do so quickly, flexibly and with intention.

It doesn't stop there. We also unlock access to a first-of-its-kind ecosystem tailored to brick-and-mortar – personally, it's the ecosystem I always wished my financing gave me access to. I am thrilled to welcome you into the fold.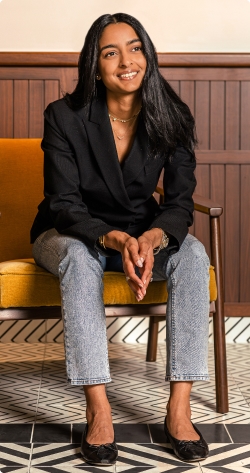 Investor Application
Intuitive growth capital with Bonside.
This form should only take sixty seconds.
You'll hear back from us within a few hours.
Next Steps
What to expect.
Step One
Qualify
Hear back within 5 days. Businesses that meet the requirements proceed to diligence.
Step Two
Diligence
Bonside's Finance team conducts business diligence to determine eligibility. Upon approval, a term sheet is sent.
Step Three
Financing
Get the growth capital your business needs and join our community of the best brick-and-mortar brands.